Our Story
A Different Kind of Company
We make the best disc golf bags on the planet.
And it comes from a pretty simple approach.
We are disc golfers first, so we create bags we dream about playing with.
We use the highest quality materials we can find and make our bags as durable and comfortable as possible.
And we do right by the planet every step of the way from design to production to shipping.
You will pay more for a Pound bag, but it will last you as a long as you play.
If for any reason it doesn't, not to worry. It's backed by our industry leading "One Bag for Life" warranty.
It All Started At the Ranch
Our founder Levi Buckingham grew up with his friends Dana & Paul who's dad Dana Gleason happened to create Dana Designs.
After college he took a job at the Mystery Ranch and saw first hand the process of designing and producing high quality packs for Navy Seals and Wilderness Firefighters.
He also squeezed in as much disc golf as he could.
At the time most disc golf bags were more like more like butt packs and all contained rigid framing that made them uncomfortable. He realized the pack he wanted to carry out on the course didn't exist.
So he decided to invent it.
Initially the Mystery Ranch gave him access to materials but asked he work on it in his own time. But as his design got better and better they saw the same potential he did.
After months of prototyping, sewing help and mentorship, The Golf Mahal was introduced. And quickly became the go to bag for the most serious players, developing a cult following.
After a few years Levi decided to set out on his own. The idea for Pound was hashed out over a six month road trip.
By the time he opened his doors The Golf Mahal was out of production and there was an audience hungry for his newest design: The Octothorpe.
Over the past decade Pound has branched out into other designs and even travel and leisure bags. But whatever we make, rest assured it will be the toughest, highest performing version on the market.
And we'll remain committed to using the highest quality materials, paying our team a superior wage, and keeping our carbon footprint as low as we possibly can.
Topflight Design
We design the best bags we can imagine. And then we figure out the materials we need and how to make it as durable and comfortable as possible.
Typically we go through over a dozen prototypes before a bag goes into production, and use over 30 vendors to source the materials that go into a single bag.
And we're are constantly improving upon our designs after they are out in the world. We have a very low warranty return rate, but we learn from every one and make proactive changes to ensure even the smallest issues doesn't arise again.
Freakish Performance
Disc golf bags go through almost as much wear and tear as a wilderness fire and rescue or military bag. Even on a par 3 course you're likely to pick it up and set it down close to 100 times.
Our bags meet the demands of serious golfers playing regularly for years under every weather condition. They are made with Cordura fabric, and designed by real players to maximize comfort and ease of use. It's why they are carried by the best disc golf players in the world.
Our Promise: One Bag for Life
Pound's lifetime warranty is the real deal: No registration required, no expiration date, no gimmicks.
Our warranty is simple. If there is a manufacturing defect we will fix it for no charge.
If the issue is clearly from normal wear and tear, no worries. We'll fix it for exactly what we pay the the person fixing it without any markup.
And we believe "tie goes to the runner." Either way we ask that you ship the bag to us. We'll pay for return shipping when if it fall under warranty.
If we're not sure if the issue was a manufacturing defect or normal wear and tear, we always lean in favor of the customer.
The reason we can make this promise is we make our packs right here in the US. We know the person who built your bag so we can guarantee their work. We also can't stand the idea of a single one of our packs in the landfill.
The good news is we have an insanely low warranty return rate. Which is good, because warranties aren't fun for you or for us and they aren't great for the planet either.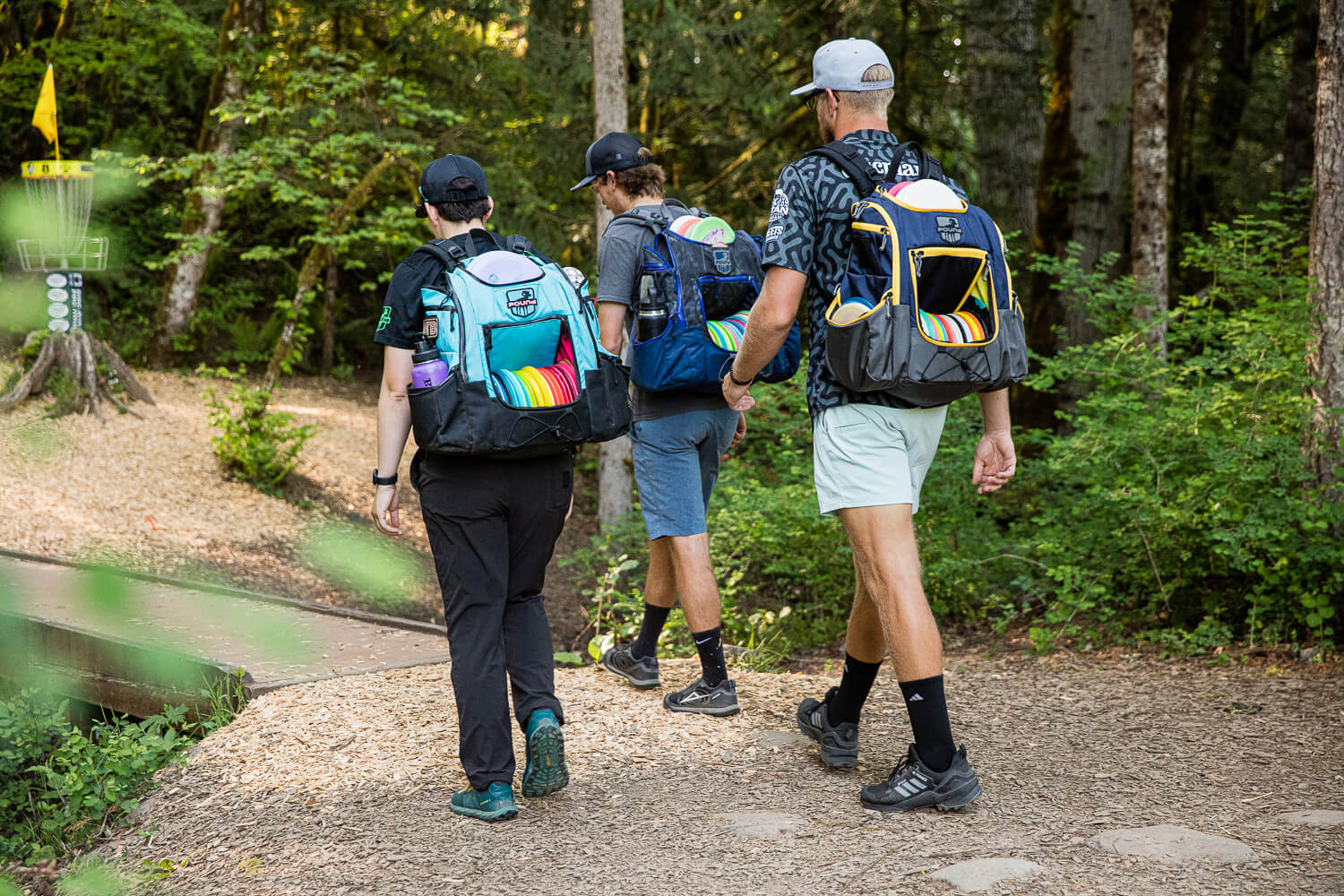 Custom Disc Golf Bags
Pound helps you express your personality
Our unique approach to design and stateside production means we offer you the option to fully customize your bag.
So go ahead, design every aspect of your dream bag, from fabrics to zippers and even to certain feature sets. You won't find any other brand offering this level of expression.
Naturally custom bags naturally take a little longer to make, but we guarantee it will be worth the wait.
Product Sustainability
Being Responsible is a Choice
Making the best bags on earth means using the very best materials, avoiding the shortcuts other manufacturers take, and doing right by the earth. It's more expensive, but it's how we do business and why our bag last a lifetime.  
USA Production
American-made providing a generous wage for our sewers and producers
Responsible Materials
We source the highest performing recycled plastic fabrics and materials
Performance Fabrics
Water-resistant fabrics, lightweight design, triple-stitched panels
Quality Components
Tested for comfort and durability down to every component
Versatile Accessories
Adaptable for nearly every conceivable bag accessory
Plastic-Free Packing
No unnecessary oil-based plastics in our packing process
Reduced Footprint
Our bags don't travel the world before they find you