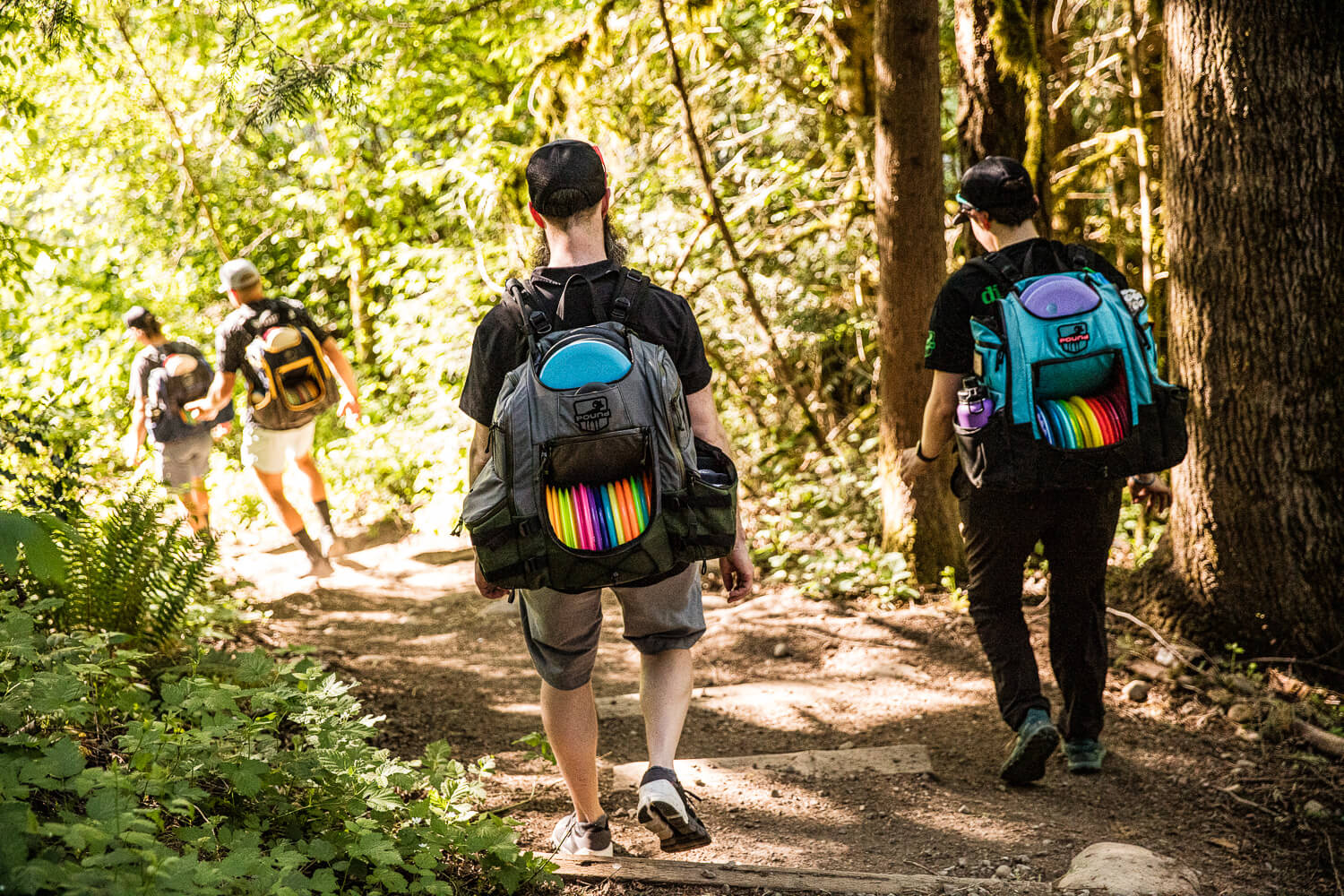 The Octo-Haul is the bigger brother to our flagship pack, the Octothorpe. Released in 2016, the Haul is intended for players that want more of everything. More disc storage, more pockets, and more room for gear. We took the core design of the Octothorpe, and widened both the long pockets and Haul pockets. We also added extra internal pockets, compression straps, and Haul pocket lid retention sleeves to keep things tidy. These added features give the Octo-Haul a 35+ disc capacity with plenty of room to spare for water, gear, and anything else.
Just like the Octothorpe, the Octo-Haul's design combines the comfort and durability of a mountaineering pack with the functionality of a disc golf bag. This is achieved by applying design techniques, material selection, and quality standards that are common in the outdoor backpacking industry. The Octo-Haul is also the beneficiary of the design improvements that we've made to the Octothorpe over the years. The two packs' common cores mean that just like the Octothorpe, every Octo-Haul sold today is also the most comfortable, durable, and well made disc golf backpack in the sport.
The Octo-Haul features a main compartment with a 20 disc capacity, and an easy to access putter pocket at the top of the bag that can hold 4-5 putters. The pack also features six external zippered storage pockets, as well as an integrated hydration sleeve with tube management for those that carry hydration bladders. The pack exterior is constructed using a combination of US-made 1000D and 500D Cordura® Nylon fabric that provides maximum durability and light weight. For those who play in all conditions, the pack is also compatible with our rainfly that features waterproof fabric and magnetic flap closures for easy pocket access.
Dimensions: 19" Tall x 9" Deep x 20" Wide at Bottom/14" at Top
Weight: 4lbs 2oz
Cordura® Nylon Urethane Coated DWR Fabric
Water Repellent YKK® Zippers
Densified Urethane Shoulder Pads
High Density Polyethylene and Fiberglass Framing
Breathable Spacer Mesh
Closed Cell Foam